Tennis ace Peng sweeps four golds at Chinese National Games
2009-10-28 08:44 BJT
Special Report: 11th National Games |
JINAN, East China, Oct. 27 (Xinhua) -- China's tennis ace Peng Shuai swept all four golds she has competed for at the National Games, capping off her stunning run at the prestigious meet with the women's singles gold on Tuesday.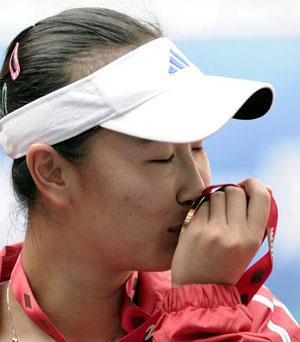 China's tennis player Peng Shuai won her 4th gold
medal at National Games Oct.27,2009.Photo above
shows Peng is kissing her medal at the awarding
ceremony.(Xinhua/Yang Zongyou)
Peng, the Tianjin representative, made short work of Zhejiang's Han Xinyun 6-2, 6-1 in the women's singles final and became the athlete with the most gold medals won at the National Games.
The 23-year-old Peng has already won the women's team, mixed doubles and women's doubles titles.
"All the four golds don't come easy," said Peng, "I worked very hard to get them. I did not expect to win all the golds, so I feel quite excited now."
"It's also a return for all those supporting me," said a beaming Peng.
The National Games was not always a sweet memory for the player, who broke into tears after losing to Zheng Jie in the women's singles final in the last Games four years ago.
Compared with the 10th Games, she said she had improved a lot in techniques and mental state.
"I'm maturer and more cool-headed. The big competition is not only a test on skills but also the mentality. It often happens that's killed players don't come out at last."
Editor: Zhang Ning | Source: Xinhua