CAIRO, Nov. 7 (Xinhua) -- Visiting Chinese Premier Wen Jiabao discussed bilateral ties, global challenges and Middle East peace with Egyptian president Hosni Mubarak here on Saturday.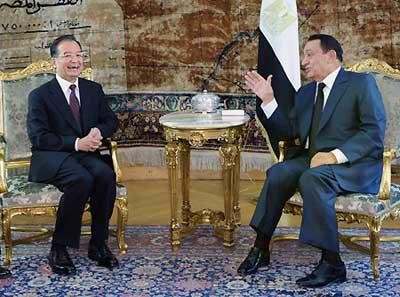 Chinese Premier Wen Jiabao (L) talks with Egyptian President Hosni
Mubarak at the Presidential Palace in Cairo, Egypt, Nov. 7, 2009.
(Xinhua/Li Tao)
Egypt was the first Arabic and African country to establish diplomatic relations and relations of strategic cooperation with China and the China-Egypt relationship occupied an important position in China's foreign relations, Wen said.
In recent years, the content of the bilateral strategic cooperation has been increasingly enriched, and has produced mutually beneficial achievements, he said.
The two countries have closely cooperated on major international and global issues, and have effectively protected common interests. China is willing to work with Egypt to maintain high-profile exchanges, deepen cooperation in areas such as trade and commerce, and to strengthen communication and coordination on major issues, including the international financial crisis and climate change, the Chinese premier said.
Mubarak said the friendly cooperative relationship between the two countries in all areas has been going well.
Egypt is well placed and willing to serve as an active bridge connecting China, Arab and African nations, he said.
On the Middle East issue, Wen said China supported a solution based on U.N. relevant resolutions, the "land for peace" principle and the Arab Peace Initiative. The Palestinian-Israeli conflict should be solved through dialogue and political negotiation, the Middle East peace process should be promoted, Wen said.
Currently, opportunities and challenges coexist in the Middle East peace process and it is important to restart the Palestinian-Israeli peace talks as soon as possible, he said.
China supports Egypt continuing to play an important role in the process, and supports Arab countries for their efforts in seeking regional peace, and peaceful coexistence of Israel and Palestine and their people, Wen said.
Mubarak said Egypt will continue to actively mediate in the Middle East peace process, and to create conditions for a new round of Middle East peace talks.
Wen is paying a two-day official visit to Egypt. He arrived in Cairo on Friday, and is to attend the fourth ministerial meeting of the Forum on China-Africa Cooperation, scheduled to open on Sunday.
Related stories
Editor: Zhang Pengfei | Source: Xinhua