4th ministerial conference of FOCAC begins in Egypt to deepen China-Africa cooperation
2009-11-09 08:52 BJT
Special Report: China-Africa Cooperation Forum |
by Muhammad Yamany, Zhang Lin
SHARM EL-SHEIKH, Egypt, Nov. 8 (Xinhua) -- The Fourth Ministerial Conference of the China-Africa Cooperation Forum (FOCAC) opened in the Egyptian Red Sea resort of Sharm el-Sheikh on Sunday.
Chinese Premier Wen Jiabao, Egyptian President Hosni Mubarak and African heads of state or government attended the opening ceremony of the two-day conference, with the theme of "deepening the new type of China-Africa strategic partnership for sustainable development."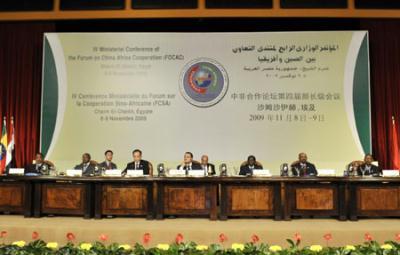 The fourth ministerial meeting of the Forum on China-Africa
Cooperation (FOCAC) opens in the Egyptian resort of Sharm el-
Sheikh on Nov. 8, 2009. (Xinhua Photo)
Mubarak, who chaired the opening ceremony, said in a speech that FOCAC is to establish a new stage of relations between China and Africa and a partnership that Africa and China are looking forward to for peace, security and development.
Egypt, which was the first African country to recognize the People's Republic of China more than half a century ago, supports the one-China policy and also supports FOCAC from the first day of its establishment, said Mubarak.
This reflects the solid relations between the peoples of Africa and China throughout the history and is an effective model of fruitful South-South cooperation, he added.