China pledges $10 billion in loans to Africa
2009-11-09 10:19 BJT
Special Report: China-Africa Cooperation Forum |
SHARM EL-SHEIKH, Egypt: Premier Wen Jiabao announced Sunday that Beijing would double the initial commitment of loans to African nations and phase out most tariffs to expedite trade with the continent's poorer countries.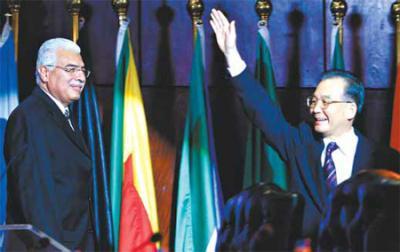 Premier Wen Jiabao greets the Fourth Ministerial Conference of the
China-Africa Cooperation Forum before announcing China's commitment
of $10 billion to African countries on Saturday. Egyptian Prime
Minister Ahmed Nazif looks on at the summit, held in his nation's
resort city of Sharm el-Sheikh. [Reuters]
The infusion of $10 billion in loans over a span of three years - President Hu Jintao said the nation would commit half that amount in 2006 - is China's aim to boost a relationship that is now economically booming.
It also comes amid discomfort in the West. Critics say the aid may drive African countries deeper into debt. They have said that China is only interested in Africa's natural resources to help feed its economy.
"China's support for Africa's development is real and solid," Wen said at the China-Africa Cooperation Forum in the Egyptian resort of Sharm el-Sheikh. "In the future, no matter what turbulence the world undergoes, our friendship with the people of Africa will not change."