Locating between 10004'-10016'east longitude and 2703'-2740' north latitude, Jade Dragon Snow Mountain (Yulong Mountain) is the southernmost glacier in the Northern Hemisphere.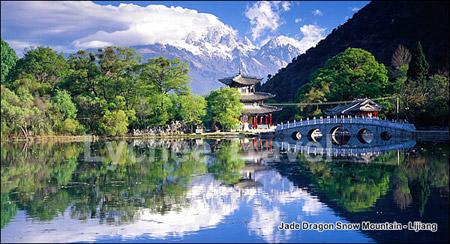 Jade dragon snow mountain
Consisting of 13 peaks, among which Shanzidou is the highest one with an altitude of 5,600 meters (18,360 feet), Jade Dragon Snow Mountain stretches a length of 35 kilometers (22 miles) and a width of 20 kilometers (13 miles).
Looking from Lijiang Old Town in the south which is 15 kilometers (nine miles) away, the snow-covered and fog-enlaced mountain resembles a jade dragon lying in the clouds, hence, the name Jade Dragon Snow Mountain.
According to the geologists' research, for about 400 million years the area around Jade Dragon Snow Mountain was the ocean and it was during the last 600 thousand years that the different landscapes had come into being because of the uprising of the lithosphere.
Archaic legend about this mysterious and beautiful snow mountain goes like this: Once upon a time, Jade Dragon Snow Mountain and Haba Snow Mountain were twins.