LOS ANGELES, Dec. 14 (Xinhua) -- NASA's Wide-field Infrared Survey Explorer (WISE) was launched early Monday on a mission to map the entire sky in infrared light.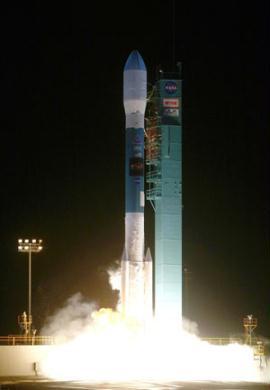 This NASA handout photo shows the United Launch
Alliance Delta II rocket with NASA's Wide-field
Infrared Survey Explorer, or WISE, satellite
as it launches. NASA launched Monday a new
breed of satellite called WISE on a mission to
orbit Earth and map the skies to find elusive
cosmic objects, including potentially dangerous
asteroids.(Xinhua/AFP Photo)
Perched atop a United Launch Alliance Delta II rocket, WISE blasted off from the Vandenberg Air Force Base, north of Santa Barbara, California.
The rocket is tilting toward the south, crossing the California coastline and heading out over the Pacific Ocean.
The launch had been scheduled for Dec. 11 but was delayed due to an anomaly in the motion of a booster steering engine.
The launch was successfully carried out after mission managers had completed a plan to resolve the anomaly, said the Jet Propulsion Laboratory (JPL) located in Pasadena, California, which is responsible for the mission.
The plan includes removing and replacing a suspect component on Friday, allowing the Delta II to carry out the task.
The launch went smoothly although the weather forecast had diminished slightly to 60-percent favorable conditions at launch time due to concern cumulus cloud cover, according to NASA.