BEIJING, Dec. 17 (Xinhuanet) -- The Time magazine on Wednesday named U.S. Federal Reserve Chairman Ben Bernanke as its 2009 Person of the Year, and the Chinese worker and Governor of China's central bank Zhou Xiaochuan were also on the list, according to media reports Thursday.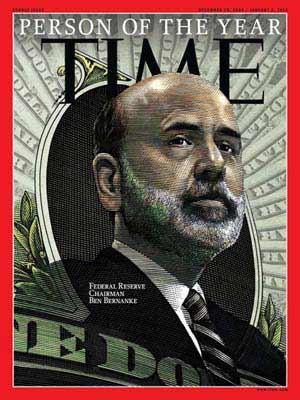 TIME magazine has named Federal Reserve Bank Chairman
Ben Bernanke its 2009 "Person of the Year".
(Xinhua/AFP Photo)
Bernanke will be featured on the cover of the magazine that comes out Friday. He is called "the most powerful nerd on the planet" by the magazine and is believed to be the reason the U.S. financial crisis wasn't worse.
The Chinese worker ranked the second on the list as the only group named. They were described as "an increasingly influential group in one of the world's most powerful economies."
China has achieved its goal of the 8 percent annual economic growth rate in 2009, and remains the world's fastest-growing major economy, and an economic stimulus for many others to step out of the recession. It is the tens of millions of ordinary workers who deserve the credit most, as the magazine said.
In March, Zhou Xiaochuan publicly called for the U.S. dollar to be eventually replaced as the globe's reserve currency, and the world took note.