"One country, two systems" successful in Macao: President Hu
2009-12-20 15:13 BJT
Special Report: Macao 10 Years On |
MACAO, Dec. 20 (Xinhua) -- President Hu Jintao said Sunday the practice of "one country, two systems" was successful in Macao, vowing to stick to the "correct road."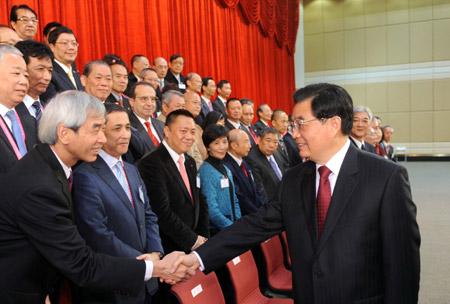 Chinese President Hu Jintao shakes hands with representatives from various
walks of life in Macao Special Administrative Region (SAR) of south China
on Dec. 20, 2009.(Xinhua/Fan Rujun)
In a meeting with representatives of different circles in Macao, Hu said the development and progress since Macao's return to the motherland ten years ago showed Macao compatriots had the wisdom and ability to manage and develop Macao.
Hu attributed Macao's development to concerted efforts made by all the Macao people.
He said he hoped the Macao people would make joint efforts to support the chief executive and government of the Special Administrative Region, push forward the development of local economy, and maintain social harmony and stability.