BEIJING, Jan. 13 (Xinhua) -- China sent an emergency rescue team Wednesday evening to quake-hit Haiti, where several thousands of lives may have been claimed.
Chinese leadership expressed sympathy with and deep condolence to the Haitian people for their loss in the strongest ever quake in about 200 years in the Caribbean islands country, with which China has no diplomatic relations.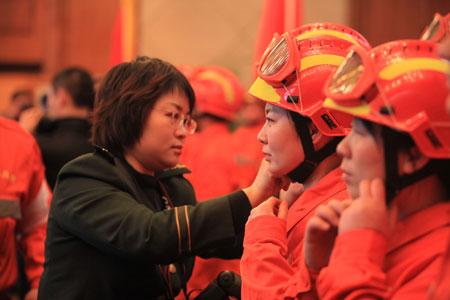 A female armed police official helps fastening helmet of a female member of
a Chinese rescue team before the 50-member team's departure for quake-hit
Haiti, at the Capital International Airport in Beijing, capital of China,
Jan. 13, 2010. The team consist of search and rescue personnel, who have
conducted many rescue tasks of this kind in the past years, and three sniffer
dogs.(Xinhua/Xing Guangli)
Chinese President Hu Jintao and Premier Wen Jiabao have demanded the related Chinese government departments and rescue group to help uncover those being buried, protect Chinese nationals there and provide humanitarian aid.
China's Red Cross Society has decided to donate one million U.S. dollars of emergency aid to the country, which was hit Tuesday by the 7.3-magnitude earthquake at about 4:53 p.m. local time (2153 GMT).
The epicenter of the devastating quake was located under the sea, some 15 km southwest of the capital city Port-au-Prince, home to an estimated four million.
Power supplies were cut off and communications were interrupted as many buildings, including hospitals and the presidential compound, were damaged.
Eight of the 125 Chinese peace-keeping policemen, who were deployed there last June to safeguard social security, were also buried under debris, said a statement from the Chinese cabinet, the State Council.
A "massive number" of people of the United Nations mission, including the 9,000-strong multi-national peacekeeping mission, were still missing after the calamity, according to an anonymous UN official.
The Chinese rescue team took off from the Beijing International Airport at about 8:30 p.m. and is expected to arrive at Port-au-Prince after a 20-hour flight.