BEIJING, Jan. 19 -- Baidu Chief Technology Officer, Li Yinan will leave the company on Feb. 20 to become CEO of a China Mobile subsidiary, confirmed by an insider Monday. Li resigned a month ago.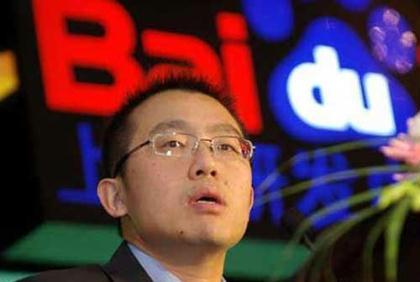 File photo shows Li Yinan, chief technology officer of Baidu.
(Photo: Global Times)
The Baidu board of directors have not commented on his resignation.
Li will become CEO of Beijing Wuxian Xunqi, an operator under China Mobile.
Beijing Wuxian Xunqi is the sole cooperator of China Mobile 12580, a service hotline, which is the first comprehensive information service operator offering services, such as WAP, SMS and GPS.
Li has a Master's degree in optical engineering from Huazhong University of Science and Technology in Wuhan, China. He first served as chief telecommunications scientist and vice president at Huawei Technologies, Later, he joined Baidu in Oct., 2008 and served as CTO for over a year so far.
He led the research and development of many programmes, including the next generation search engine called A La Ding.
Editor: Zheng Limin | Source: Global Times