Heavy snow and unusually cold weather have swept across most parts of China this week, causing travel chaos on roads and on the sea, with forecasters predicting worse to come.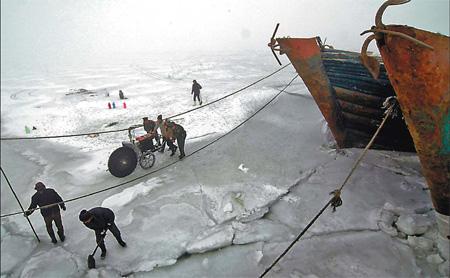 Fishermen in Jinzhou, Northeast China's Liaoning province, try to break
the ice in the Bohai Sea on Monday. [Li Tiecheng/China Daily]
The worst sea ice in 30 years is threatening shipping and the livelihoods of fishermen on China's eastern coast and the situation is expected to worsen this week, with about 40 percent of the Bohai Sea's surface already frozen, the State Oceanic Administration (SOA) said on its website.
The Shandong provincial oceanic and fishery department issued warnings of sea ice and began 24-hour monitoring of conditions last Tuesday.
Juhua Island, the largest island in Liaodong Bay, was surrounded by sea ice, which caused more than 3,200 residents on the island to face a coal and medicine shortage, Xinhua reported yesterday.
Huludao is facing the worst sea ice in three decades and the sea froze a month earlier than usual. Data from the SOA showed that on Jan 13 the sea ice, as thick as 35 cm, covered a length of 110 km.
Due to the ice, shipping service has been suspended since Jan 5, Xinhua reported.
Wang Hua, deputy director of the ocean forecast and disaster relief department of the SOA, told Xinhua yesterday that the cold spell will freeze even more of the sea.
Temperatures are forecast to drop up to 22 C in parts of the Inner Mongolia autonomous region and the northeast part of the country, bringing mild to heavy snow to the north and rainfall to the south, Lin Jian, chief forecaster of the national meteorological watchdog, said yesterday.
The lowest temperature in Inner Mongolia is expected to reach minus 40 C this morning and tomorrow morning, while the lowest temperature in Altay, a county-level city in the northern part of the Xinjiang Uygur autonomous region, will hit minus 43 C this morning, she said.
Related stories