HANOI, Jan. 21 (Xinhua) -- A beautiful exhibition of painting and calligraphy works by Chinese and Vietnamese artists was held here on Thursday as part of a series of cultural activities to celebrate the 60 years of diplomatic ties between the two countries.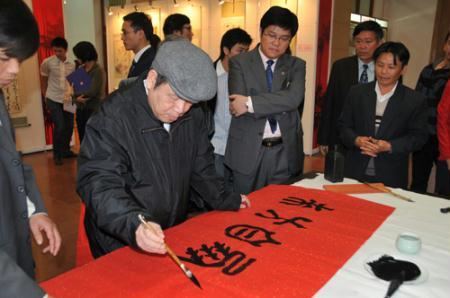 A calligrapher (2nd L) from Vietnam creates works in Vietnam-China
Paintings and Calligraphy Exhibition in Hanoi, capital of Vietnam, Jan. 21,
2010. About 60 works from Vietnamese and Chinese calligraphers and painters
are displayed in National Library of Vietnam. The exhibition marks the
prelude to the 2010 "China and Vietnam Friendship" culture exchange year.
(Xinhua/Li Qing)
Ten Chinese artists came from China's northern Tianjin Municipality with their works to participate in the exhibition. Around 60 works by calligraphers and painters of the two countries were on display.
"The cultural exchange between Vietnam and China has been intensive in recent years," said Chinese ambassador to Vietnam Sun Guoxiang at the exhibition.
"The exhibition is a great opportunity for the two peoples to share their splendid culture. It will help consolidate traditional friendship between the two countries," said Tran Chien Thang, vice culture, sports and tourism minister of Vietnam at the exhibition.
The exhibition was held in Vietnam's southern Ho Chi Minh City last week.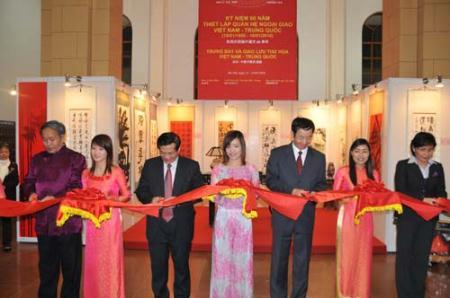 Deputy Minister of Culture, Sports and Tourism of Vietnam Tran Chien Thang
(3rd Left in Front), Chinese Ambassador to Vietnam Sun Guoxiang (3rd Right
in Front ) cut a ribbon for the opening of Vietnam-China Paintings and
Calligraphy Exhibition in Hanoi, capital of Vietnam, Jan. 21, 2010.
(Xinhua/Li Qing)