GENEVA, Jan. 28 (Xinhua)--There has been a "dramatic" rise in natural disasters during the past decade, the director of the Center for Research on the Epidemiology of Disasters (CRED) said on Thursday.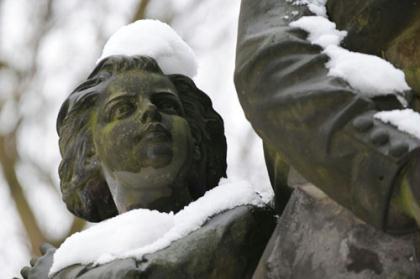 A statue is covered with snow at a park in Berlin, capital of Germany,
Jan. 28, 2010. A storm front covered much of Germany with snow Wednesday
night into Thursday, adding to what has been an unusually cold and snowy
winter. (Xinhua/Ban Wei)
"The number of events have gone up very, very dramatically," CRED Director Debarati Guha-Sapir said in Geneva.
During the 2000 to 2009 period, there were 385 disasters, an increase of 233 percent since 1980 to 1989, and of 67 percent since 1990 to 1999, according to CRED data.
Though earthquakes made up 60 percent of natural disasters from 2000 to 2009, climate-related events, such as droughts, storms and floods, have made up the majority of disasters overall, increasing tenfold since data was first collected in 1950.
"Have climate-related disasters increased? The answer is yes," Sapir said, adding, "But it is not clear that climate change itself is an important factor."Sapir said that CRED lacked sufficient research to determine the role of global warming in the increase in climate-related natural disasters.
CRED, an international nonprofit, was created in 1971. It is part of the Universite catholique de Louvain in Brussels, and has been a collaborating center with the World Health Organization since 1980.