by Mehdi Bagheri
TEHRAN, Feb. 8 (Xinhua) -- Iran announced on Monday it has informed the International Atomic Energy Agency (IAEA) about its plan to produce higher-grade uranium enrichment, provoking fresh warnings by Western countries of new sanctions.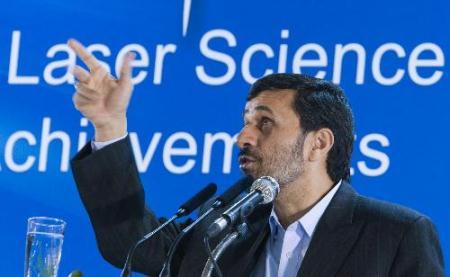 Iran's President Mahmoud Ahmadinejad speaks while visiting an exhibition
of Iran laser science and technology in Tehran Feb. 7, 2010.
(Xinhua/Reuters Photo)
In a letter to the international nuclear watchdog, Iran informed the IAEA about the Islamic Republic's plan to produce 20 percent enriched uranium on Tuesday, the semi-official Fars news agency reported.
"Iran officially informed IAEA about its plan to start its enrichment activities to the purity of 20 percent," Iran's envoy to the IAEA Ali Asghar Soltanieh told Fars, adding that Iran asked IAEA inspectors to monitor the enrichment process, since all of the country's nuclear activities are under the watch of the IAEA.
Meanwhile, Iran's Foreign Ministry spokesman Ramin Mehman- Parast defended the country's right to enrich uranium to a level of 20 percent, saying the plan does not contradict the Nuclear Non- Proliferation Treaty (NPT), the English language satellite Press TV reported.
"Iran has the right to enrich uranium to a level of 20 percent. The peaceful aspect of the enriched uranium is not in contradiction with the NPT," Ramin Mehman-Parast was quoted as saying.
Iran should produce part of the 20-percent enriched uranium inside the country to meet its future needs for a Tehran research reactor, he said.
The spokesman did not rule out the possibility of Iran's low- grade uranium swap or purchasing the high-grade fuel, but maintained that producing it inside the country is a different issue.
"We will receive the fuel from countries which enrich uranium only if they cooperate with Iran," Press TV quoted him as saying.
The fuel will be produced at the enrichment facilities in the central Iranian city of Natanz which will be used as the fuel for a Tehran research reactor, Iran announced on Sunday.
Head of the Atomic Energy Organization of Iran (AEOI) Ali Akbar Salehi said on Sunday that Iran will begin 20 percent uranium enrichment on Tuesday, Press TV reported.
Earlier on Sunday, Iranian President Mahmoud Ahmadinejad ordered the AEOI to start work on enriching uranium to a purity of 20 percent, adding that Iran is still ready for exchange of nuclear fuel with world powers, the report said.
After Tehran announced that it notified the IAEA over the enrichmnt on Monday, Russia called on Iran to send its uranium abroad for further enrichment in line with an international agreement signed last year, the Interfax news agency reported, citing a foreign ministry spokesman.
"The way out of the current situation is for Iran to fulfill the agreement reached in Geneva on Oct. 1 last year, which provides for uranium for the Tehran research center to be sent abroad for full enrichment," an unidentified ministry spokesman was quoted by Interfax as saying.
Moreover, French and U.S. defense ministers jointly announced Monday in Paris that their countries would work together for new sanctions against Iran over the nuclear issue.
France's position over Iran's nuclear enrichment program was totally converged with that of the United States, French Defense Minister Herve Morin said with visiting his U.S. counterpart, Robert Gates, at his side after a meeting.
The U.S. defense secretary insisted sanctions are the only way to stop Iran moving closer to military nuclear access.
The United States and its Western allies have been accusing Iran of secretly developing nuclear weapons under the disguise of a civilian program. Iran has denied the accusation and stressed its nuclear program is only for peaceful purposes.
Under a draft deal brokered by the IAEA, most of Iran's existing low-grade enriched uranium should be shipped to Russia and France, where it would be processed into fuel rods with the purity of 20 percent. The higher-level enriched uranium will then be transported back to Iran.
Editor: Du Xiaodan | Source: Xinhua