by Xinhua writers Zhou Yan, Fu Piyi and Zhang Ran
HANGZHOU, Feb. 13 (Xinhua) -- Days before its 4,000 employees, mostly migrants, started off upon their annual trips home for the Chinese Lunar New Year, Tiansheng Group, a textile company in the eastern Zhejiang Province, promised pay rises hoping workers would all come back after the holiday.
"We are expecting a severe shortage of skilled workers this year," said Wei Guoliang, president of the company's trade union. "We'll be short of at least 1,000 workers in Spring."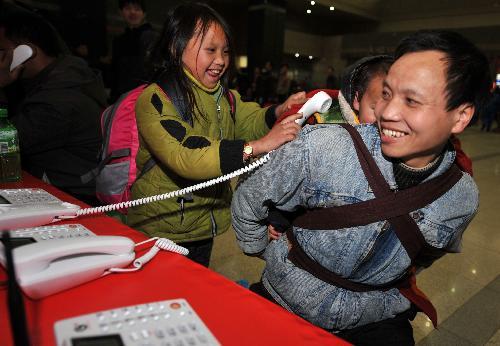 Lu Laofa (R), a 40-year-old migrant worker from southwest China's Guizhou Province,
and his children make a free phone call with their relatives at the railway station
of Hangzhou, capital of east China's Zhejiang Province, Jan. 31, 2010.
(Xinhua/Wang Dingchang)
Located in Shaoxing County, Asia's biggest textile base, Tiansheng Group relies mostly on migrant workers from Anhui, Henan and Sichuan provinces for production.
Fearing it might lose some of its best employees, the company's management offered an average 15-percent pay rise for all workers, plus higher meal allowances and better medical insurance starting on March 1.
The offer was printed out and posted at the company's main entrance to catch the workers' attention.
"We don't know if it will work," said Wei. "But we do hope the workers will come back after the Spring Festival."
While the Spring Festival falls Sunday, most migrants would stay home for about two weeks for the most important Chinese holiday.
For years, migrant workers are the mainstay of labor forces in China's leading manufacturing bases in the Shanghai-centered Yangtze River Delta and the Guangzhou-centered Pearl River Delta.
Yiwu City in Zhejiang Province, known for its small commodities including the world's biggest supply of toys and Christmas gifts, is also feeling the pinch of worker scarcity.
After a recruitment tour to underdeveloped western provinces of Guizhou, Shaanxi and Yunnan last year, Huang Yunlong, head of the city's labor management bureau, said the situation would be tough for local employers this year.