by sportswriter Zhang Han
VANCOUVER, Feb. 14 (Xinhua) -- China's star figure skaters Shen Xue and Zhao Hongbo, who came back from retirement for the Winter Olympic Games, beat the odds to score a season best of 76.66 points at the pairs short program here on Sunday.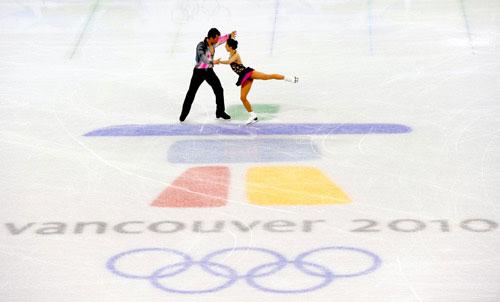 China's Shen Xue (R) /Zhao Hongbo perform in the pairs short program of figure
skating at the 2010 Winter Olympic Games in Vancouver, Canada, on Feb. 14, 2010.
(Xinhua/Yang Lei)
The new mark added 1.30 points to the previous season best of all, which was also set by the three-time world champions at the ISU figure skating Grand Prix Finale in December.
"We wanted the program to show all that we have, and we made it," said Zhao at the mixed zone after skating to one of the Queens' rock'n roll hits Who Wants to Live Forever along with his now wife Shen.
"It's the best gift for the Valentine's Day," added Shen.
"However, we thought the score could be higher considering what we achieved by all those moves and elements," Zhao said. "It's a little bit disappointed."
The former world No. 1 pair came out on the opening day of the Vancouver Olympic figure skating competitions to perform first of the 20 pairs, which had been assumed a bad-luck draw since Shen/Zhao rank the 29th after two years away from the arena.
Umpires, however, appearantly appreciated the Chinese couple's almost flawless performance and got touched just as the audience did.
"What can we say? We were the first pair here to compete and shouldn't have expected more than that. There's nothing to complain," Zhao said.
Cheers and applauds followed the couple throughout the program and went even louder when the wife Shen leaned her head on Zhao's shoulder skating across to leave the pool, though the pair, especially Zhao, looked not so relaxed during their performance as they claimed.
"Nervous? Maybe a little bit. Not that much," said Zhao. "Our coach Yao Bin was even more hit by the nerve."
"Of course there's some intense," commented Yao, who's a former pairs figure skater and China's Olympian. "Here's at the Olympics, and I could only have slept with the help of a pill."
Shen and Zhao led the standings temporarily after six pairs of the first two groups, as the title favorites' main rivals, namingly Germany's Aliona Savchenko/Robin Szolkowy will perform their short program later Sunday evening after China's other two pairs Pang Qing/Tong Jian and Zhang Dan/Zhang Hao.