Short-hop flights boost Hainan tourism
2010-02-21 17:22 BJT
Special Report: Impression Hainan |
Tianjin Airlines has begun twice daily-flights between Haikou and Sanya - Hainan Island's two major tourist destinations.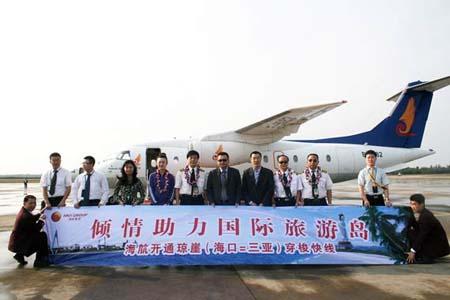 Tianjin Airlines opens twice daily-flights between Haikou and Sanya.
Passengers will enjoy beautiful views of the island during the low-altitude forty-minute short hop.
Visitor numbers have soared since Beijing launched a major initiative to promote Hainan as an international travel hotspot. Haikou and Sanya are the tropical island's most popular destinations and the tourism boom has put the island's transport system under pressure.
The flights will make travel on the island much more convenient and are part of an accelerated program to develop Hainan's infrastructure to the highest international standards.
Flights from Haikou to Sanya take off at 9:30 am and 12:20 pm, and return from Sanya to Haikou at 10:50 am and 13:40 pm. Tickets costs 460 yuan (US$ 67).
Related stories
Editor: Yang Jie | Source: China.org.cn