Haitian president says quake toll could reach 300,000
2010-02-22 08:21 BJT
Special Report: Strong Quake Hits Haiti |
PLAYA DEL CARMEN, Mexico, Feb. 21 (Xinhua) -- Haitian President Rene Preval said here on Sunday that as many as 300,000 people died in the devastating earthquake that rocked the country on Jan. 12.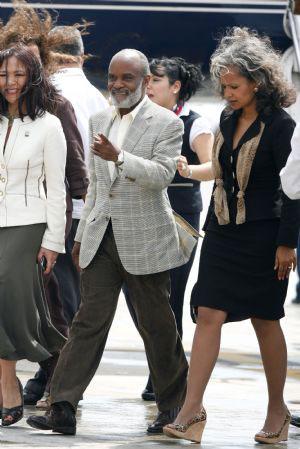 Haitian President Rene Preval (C) arrives at the
international airport of Cancun, a resort city on
Mexico's Caribbean coast, Feb. 21, 2010. The
leaders of the Caribbean Community (Caricom)
arrived here on Sunday for the Mexico-Caricom
Summit on Sunday and Group of Rio Summit on Monday
and Tuesday. (Xinhua)
In his opening speech to the first Mexico-Caricom Summit held in Playa del Carmen, a Caribbean coast resort in Mexico, Preval said: "More than 200,000 bodies have been recovered from the streets, (and) with those under the rubble that figure could reach 300,000."
Preval, who after the Sunday summit will also take part in a Group of Rio Summit here on Monday and Tuesday, thanked the host Mexico for all the aid it had provided for Haiti's earthquake victims.
Related stories
Editor: Zhang Pengfei | Source: Xinhua