China wins women's 3,000m short track relay, S. Korea disqualified
2010-02-25 10:49 BJT
Special Report: 2010 Vancouver Winter Olympic Games |
VANCOUVER, Feb. 24 (Xinhua) -- Twice Olympic champion Wang Meng led the Chinese short track speed skating team to the top podium of women's 3,000m relay with a world record at the Vancouver Winter Games here on Wednesday, as South Korea was later disqualified.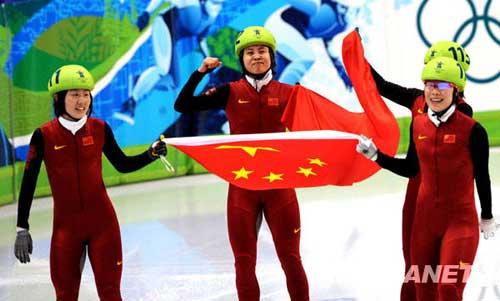 China won the women's 3,000m short track speed skating gold medal with a world
record at the Vancouver Olympic Winter Games here on Wednesday.
Wang and her teammates Zhou Yang, Sun Linlin and Zhang Hui clocked in 4 minutes and 6.610 seconds for the gold medal, the fourth title for China at the Vancouver Games.
The new mark broke the Chinese team's own world record of 4:07.179 set in 2008, and awarded China its ever first relay crown since short track speed skating became an Olympic event in 1992.
Host Canada earned the silver in 4:09.137 and the United States finished the distant third in 4:14.081, as the judges studied the video replay later after the final and announced to disqualify South Korea for a minor infraction.
It took a while at the side of the rink on Wednesday evening for the Chinese coach Li Yan to object before the judges' decision set off huge argument with the Korean coaches but jubilation for China and the other teams.
Involving four teams and 16 total skaters, the relay started with Wang Meng in the lead and the Koreans bumped and jostled around the oval to overtake the position halfway before the infraction of the Korean race leader against China's Sun.
Those South Korean flags held aloft proudly by Ha-Ri Cho, Min-Jung Kim, Eun-Byul Lee and Seung-Hi Park suddenly dropped when their disqualification was announced.