SANTIAGO, Feb. 27 (Xinhua) -- Chilean President Michele Bachelet said that at least 85 people have been killed in a devastating 8.8 magnitude earthquake that shook the country early Saturday.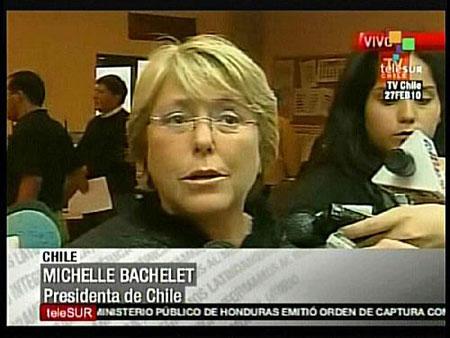 Chilean President Michelle Bachelet announced that the country entered into
"disaster status" in this February 27, 2010 video grab. A massive magnitude
-8.8 earthquake struck south-central Chile early on Saturday, triggering
a tsunami and rattling buildings in the capital Santiago.(Xinhua/AFP Photo)
Bachelet said there were more than 85 deaths in southern Maule region alone, and that the nationwide death toll was rising, but officials had no information on the number of people injured. She declared a "state of catastrophe" in central Chile.
"We have had a huge earthquake, with some aftershocks," Bachelet said, urging Chileans to "remain calm."
We're doing everything we can with all the forces we have. Any information we will share immediately, she said.
Chilean President-elect Sebastian Pinera said the earthquake killed at least 122 people and seriously damaged the South American country's infrastructure.
Chilean television showed images of destroyed buildings and damaged cars, with rubble-strewn streets. Dozens of people were seen roaming through the streets, including some wheeling suitcases behind them. There was a fire burning in one street with people sitting nearby trying to keep warm.
Several hospitals have been evacuated due to earthquake damage, she said, and communications with the city of Concepcion remained down. The president said she planned to tour the effected region as quickly as possible to get a better idea of the damage.
Television reports said the capital's international airport will remain closed for at least 24 hours due to damage caused by the quake.
Bachelet said two ships have been dispatched to send aid to Chile's remote Robinson Crusoe Island, which lies some 700 km off the Chilean coast. The island was reported to have been hit by a huge wave following the quake.
The president added that partial evacuation of Chile's Easter Island has been ordered for fear of possible tidal waves. She said people living in coastal and low-lying areas on the island are being evacuated.
The island, which hosts about 4,000 people, was not directly affected by the powerful earthquake.