SANTIAGO, March 1 (Xinhua) -- Chile's National Emergency Office on Monday raised the death toll from Chile's Saturday earthquake to 723, saying that most of those who died were in the rural coastal region of Maule, rather than the worst hit major cities of Santiago and Concepcion.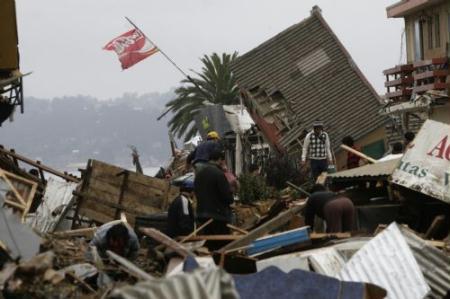 People search for things among debris in earthquake-and-tsunami-devastated
Dichato town, some 30 kilometers north of Concepcion, Chile, March 1, 2010.
The death toll from the 8.8-magnitude earthquake that hit Chile early
Saturday has reached 723, the Chilean government said on Monday. More than
500 people were injured and at least 19 people are still unaccounted for,
the National Emergency Office (Onemi) said. (Xinhua/Victor Rojas)
At least eight aftershocks that registered over five on the Richter scale occurred on Monday in the center-south zone of Chile, after the devastating 8.8-magnitude quake on Saturday.
The U.S. Geological Survey said that the epicenters of three aftershocks, measuring 5.3 and 5.2 magnitudes respectively, were in the region of O'Higgins, some 120 km south of Santiago.
In Bio Bio region, the epicenter of the earthquake, some 400 km south of Santiago, three aftershocks were also registered, measuring 5.3 and 5.0 magnitudes respectively.
According to the experts, the aftershocks will continue for at least one month or longer in the affected zone, but will be reduced in intensity and frequency.
The major quake on Saturday, which registered 8.8 on the Richter scale, appears to have caused less damage than the subsequent tsunami in Chile, according to Francisco Vidal, Chile's defense minister.
He apologized at an early Monday press conference for the government's negligence of the tsunami that hit Chile's coastal lines following the earthquake.
The tectonic movement is the biggest since 1950, when Chile suffered a 9.5-magnitude quake, the worst ever recorded in human history. Being a country constantly attacked by earthquakes, Chile and its people are well-drilled in emergency procedures.