China's defense spending to increase 7.5% in 2010: draft budget
2010-03-05 09:19 BJT
Special Report: 2010 NPC & CPPCC Sessions |
BEIJING, March 5 (Xinhua) -- China plans to increase its national defense spending by 7.5 percent to 519.082 billion yuan (about 76.3 billion U.S. dollars) in 2010, according to a draft budget report.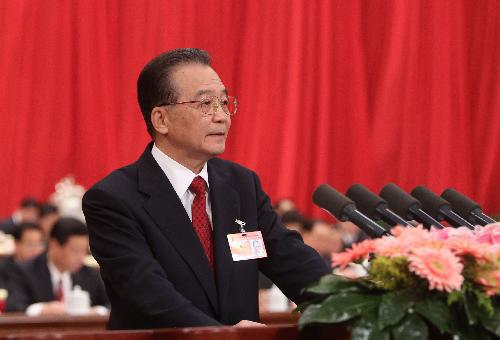 Chinese Premier Wen Jiabao delivers a government work report during the opening
meeting of the Third Session of the 11th National People's Congress (NPC) at the
Great Hall of the People in Beijing, capital of China, March 5, 2010.
(Xinhua/Liu Weibing)
The figure, about 36 billion yuan more than last year, consists of 518.577 billion yuan of central government spending and 505 million yuan of transfer payments to local governments.
These funds will be used mainly to modernize the army, according to the draft submitted to the National People's Congress (NPC), China's top legislature, which started its annual session Friday morning.
Editor: Zhang Pengfei | Source: Xinhua