China realizes 65.5% of planned investment for post-Wenchuan quake rebuilding
2010-03-05 09:24 BJT
Special Report: 2010 NPC & CPPCC Sessions |
BEIJING, March 5 (Xinhua) -- China has invested 654.5 billion yuan (96.3 billion U.S. dollars) for rebuilding the areas worst hit by a devastating earthquake in 2008, or 65.5 percent of the total planned investment, Premier Wen Jiabao said Friday.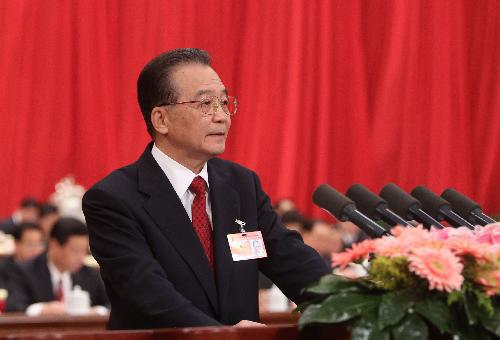 Chinese Premier Wen Jiabao delivers a government work report during the opening
meeting of the Third Session of the 11th National People's Congress (NPC) at the
Great Hall of the People in Beijing, capital of China, March 5, 2010.
(Xinhua/Liu Weibing)
Last year, the central government's public investment was 924.3 billion yuan, 503.8 billion yuan more than in the previous year's budget.
"Of this, ...14 percent (was invested) in post-Wenchuan quake recovery and reconstruction," Wen said in his government work report to the annual session of the National People's Congress, the country's top legislature.
Editor: Zhang Pengfei | Source: Xinhua