China reports hefty investment to improve people's livelihood in 2009: premier
2010-03-05 09:36 BJT
Special Report: 2010 NPC & CPPCC Sessions |
BEIJING, March 5 (Xinhua) -- The Chinese government made hefty investment, 44 percent of the total public investment from the central budget, to improve people's livelihood last year, Premier Wen Jiabao said at the parliament's annual session Friday.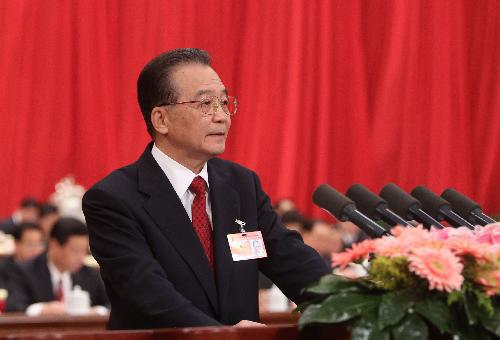 Chinese Premier Wen Jiabao delivers a government work report during the opening
meeting of the Third Session of the 11th National People's Congress (NPC) at the
Great Hall of the People in Beijing, capital of China, March 5, 2010.
(Xinhua/Liu Weibing)
"In 2009, the central government's public investment was 924.3 billion yuan (135.3 billion U.S. dollars), 503.8 billion yuan more than in the previous year's budget," Wen said while delivering the government work report at the Third Session of the 11th National People's Congress, the country's top legislature.
"Of this, 44 percent was invested in low-income housing, projects to improve the well-being of rural residents and social programs," he said.
The Chinese government unveiled a 4-trillion yuan economic stimulus plan in November of 2008 to finance programs in 10 major areas over two years to 2010. A total of 1.18 trillion yuan is offered by the central government while the remaining from local governments and private sector.
Editor: Zhang Pengfei | Source: Xinhua