China enhances industrial restructuring for balanced growth: premier
2010-03-05 10:02 BJT
Special Report: 2010 NPC & CPPCC Sessions |
BEIJING, March 5 (Xinhua) -- China intensified industrial restructuring in 2009 in an effort to optimize economic structure and lay a sound foundation for long-term development, Premier Wen Jiabao said at the parliament's annual session Friday.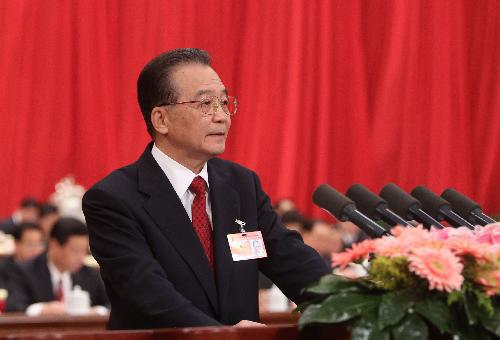 Chinese Premier Wen Jiabao delivers a government work report during the opening
meeting of the Third Session of the 11th National People's Congress (NPC) at the
Great Hall of the People in Beijing, capital of China, March 5, 2010.
(Xinhua/Liu Weibing)
The government encouraged mergers and acquisitions in major sectors and announced stimulus plans for 10 key industries last year, Wen said while delivering the government work report at the Third Session of the 11th National People's Congress, the country's top legislature.
The 10 key industries include auto, steel, shipbuilding, textile, machinery manufacturing, electronics and information, light industry, petrochemicals, non-ferrous metals and logistics.
Twenty billion yuan (2.93 billion U.S. dollars) of special fund was arranged for 4,441 technological transformation programs last year, Wen said. A total of 151.2 billion yuan from the central budget, 30 percent more than 2008, went to back technology progress.
Meanwhile, the premier noted that the government stepped up efforts to eliminate backward production capacity and avoid redundant capacity expansion in 2009. It also pushed forward energy conservation, emission cut and environmental protection.
Editor: Zhang Pengfei | Source: Xinhua