China to see crucial but complicated year: premier
2010-03-05 10:05 BJT
Special Report: 2010 NPC & CPPCC Sessions |
BEIJING, March 5 (Xinhua) -- The year of 2010 will be a crucial but complicated year for China's economic development, Premier Wen Jiabao said at the parliament's annual session Friday.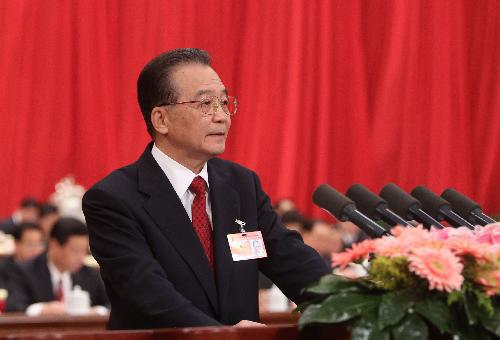 Chinese Premier Wen Jiabao delivers a government work report during the opening
meeting of the Third Session of the 11th National People's Congress (NPC) at the
Great Hall of the People in Beijing, capital of China, March 5, 2010.
(Xinhua/Liu Weibing)
"This is a crucial year for the country to continue fighting against the global financial crisis while maintaining a steady and comparatively fast economic development and accelerating the transformation of economic growth pattern," Wen said while delivering the government work report at the Third Session of the 11th National People's Congress, the country's top legislature.
This year is important also because it is the last year for the government to fulfill the targets set in the country's 11th Five-year Plan and to lay a sound foundation for work on the 12th Five-Year Plan (2011-2015), Wen said.
"Although the development environment this year may be better than last year, we still face a very complicated situation," he said.
The country will continue implementing the proactive fiscal policy and moderately loose monetary policy this year, he said.
Editor: Zhang Pengfei | Source: Xinhua