by Xinhua writers Wang Yaguang, Chen Yongrong
BEIJING, March 5 (Xinhua) -- China expects its economy to grow around 8 percent in 2010 from a year earlier, says a report delivered by Premier Wen Jiabao at the annual parliament session Friday.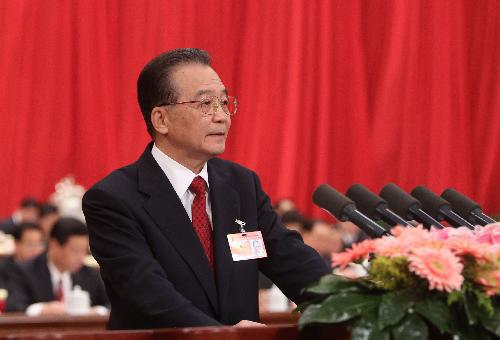 Chinese Premier Wen Jiabao delivers a government work report during the opening
meeting of the Third Session of the 11th National People's Congress (NPC) at the
Great Hall of the People in Beijing, capital of China, March 5, 2010.
(Xinhua/Liu Weibing)
Setting the 8-percent target mainly "aims at ensuring the quality of economic growth, focusing on transformation of economic growth pattern and adjustment of economic structure," says the report submitted to the National People's Congress (NPC), the country's top legislature.
The increase of consumer price index, a main gauge of inflation, will be held around 3 percent, says the report.
Although the development environment this year may be better than 2009, China "will still face a complicated situation," reads the report.
The year of 2010 will be a "crucial but complicated" year for China's economic development as the country will continue fighting against the global financial crisis while maintaining a stable and comparatively fast economic growth and accelerating transformation of growth pattern, according to the report.
Peter Trebitsch, a reporter from Hungarian News Agency Corporation, said he is sure that China will hit the growth target.
"If China sets 8-percent, it will be," Trebitsch said.
He noticed that instead of only focusing on expansion, China is giving more attention to quality of growth.
He noted, however, the key of economic development pattern transformation lies in implementation of policies in lower level governments.
"China is going to depend more and more on its own market, thus it has to take care of its people and domestic economy," said Trebitsch.
"Considering the circumstances that many countries are still suffering considerably, the target of 8 percent growth can leave room for Chinese people to improve their living standards," said Francois Jackman, counselor with Embassy of Barbados in China.
As the first country emerging from the global economic downturn, China's gross domestic product (GDP) rose 8.7 percent in 2009 from a year earlier, above the 8-percent target the government set at the beginning of last year.
China's quarterly economic growth accelerated as the government's economic stimulus package started to pay off. The national economy rose 6.2 percent in the first quarter last year, 7.9 percent in the second quarter, 9.1 percent in the third and 10.7 percent in the fourth.
Editor: Zhang Pengfei | Source: Xinhua