China to draw up policies to boost development in Tibet, Xinjiang
2010-03-05 10:15 BJT
Special Report: 2010 NPC & CPPCC Sessions |
BEIJING, March 5 (Xinhua) -- China will draw up policies this year to boost the development in Xinjiang and Tibet as well as other Tibetan-inhabited areas, Premier Wen Jiabao said Friday.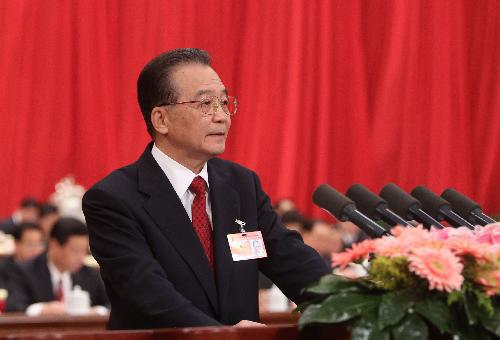 Chinese Premier Wen Jiabao delivers a government work report during the opening
meeting of the Third Session of the 11th National People's Congress (NPC) at the
Great Hall of the People in Beijing, capital of China, March 5, 2010.
(Xinhua/Liu Weibing)
"We will focus on formulating and implementing policies for economic and social development in Xinjiang, Tibet, and Tibetan ethnic areas in Sichuan, Yunnan, Gansu and Qinghai provinces," Wen said in his government work report to the annual session of the National People's Congress, the country's top legislature.
Editor: Zhang Pengfei | Source: Xinhua