Chinese to "strictly control" new projects this year: Premier
2010-03-05 10:21 BJT
Special Report: 2010 NPC & CPPCC Sessions |
BEIJING, March 5 (Xinhua) -- Chinese Premier Wen Jiabao said Friday that the government is to strictly control the launching of new projects this year in an effort to curb redundant investment.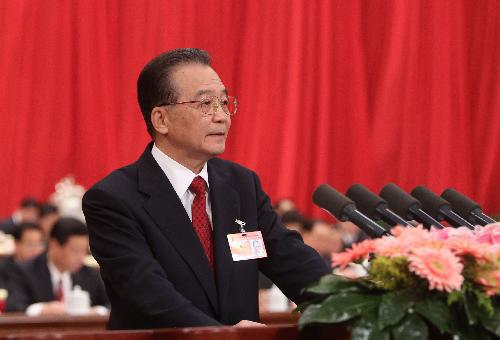 Chinese Premier Wen Jiabao delivers a government work report during the opening
meeting of the Third Session of the 11th National People's Congress (NPC) at the
Great Hall of the People in Beijing, capital of China, March 5, 2010.
(Xinhua/Liu Weibing)
Government investments at all levels should be concentrated in the most important areas and be mainly spent to carry on and complete existing projects, Wen said in the government work report he delivered at the annual session of the National People's Congress, the top legislature.
"We will strengthen and improve the supervision of investment... For projects financed through the public treasury, relevant departments need to exercise oversight of the entire course of the project," Wen said.
He also vowed to prevent the construction of "image projects" in the name of boosting domestic demand.
The term "image projects" refer to those built largely for displaying local governments' achievements rather than for use by the ordinary people.
Wen said the government should ensure public investments are spent promoting social and economic development and improving people's livelihood. "That should be able to stand the test of practice and history."
He also said the government would encourage non-government investments by improving and implementing relevant policies.
China put out an economic stimulus package of 4 trillion yuan (587 billion U.S. dollars) to finance projects over two years to 2010 in a combat against the global financial crisis.
The stimulus plan stirs concerns over corruption, as a large part of the money will be spent on infrastructure construction.
Editor: Zhang Pengfei | Source: Xinhua