China plans 10.6 bln yuan to support small businesses in 2010
2010-03-05 10:22 BJT
Special Report: 2010 NPC & CPPCC Sessions |
BEIJING, March 5 (Xinhua) -- China will allocate 10.6 billion yuan to beef up development of small and medium-sized enterprises (SME) this year, says a government work report delivered by Premier Wen Jiabao at the parliament's annual session Friday.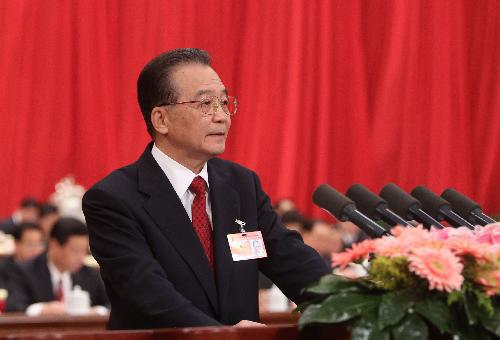 Chinese Premier Wen Jiabao delivers a government work report during the opening
meeting of the Third Session of the 11th National People's Congress (NPC) at the
Great Hall of the People in Beijing, capital of China, March 5, 2010.
(Xinhua/Liu Weibing)
The government will implement a preferential income tax policy for small enterprises with low profits. Those enterprises will be eligible to receive money from special funds for technological upgrading in the central budget, Wen told deputies to the National People' s Congress (NPC).
"We will expand channels for small and medium-sized enterprises to obtain financing, and develop a multilevel system of credit guarantees for these enterprises," Wen said.
China has 4.3 million registered SMEs, which contribute nearly 60 percent of GDP and three quarters of job opportunities.
However, SMEs are often troubled by financing difficulties, as banks are reluctant to lend them out of risk concerns.
Editor: Zhang Pengfei | Source: Xinhua