China to accelerate development of Internet of Things: Premier
2010-03-05 10:36 BJT
Special Report: 2010 NPC & CPPCC Sessions |
BEIJING, March 5 (Xinhua) -- Chinese Premier Wen Jiabao set forth an ambitious plan Friday for the country to mount the commanding height of science and technological innovation, such as in the field of Internet of Things and new energy-powered vehicles.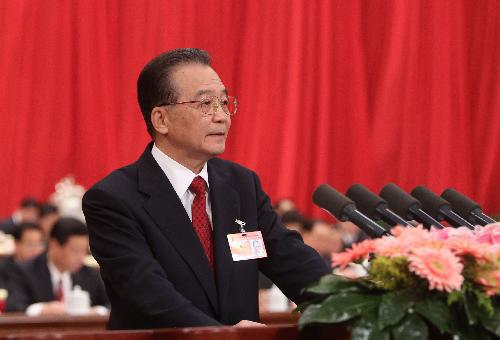 Chinese Premier Wen Jiabao delivers a government work report during the opening
meeting of the Third Session of the 11th National People's Congress (NPC) at the
Great Hall of the People in Beijing, capital of China, March 5, 2010.
(Xinhua/Liu Weibing)
"The global financial crisis is hastening a new round of technological and industrial revolution," Wen said in his government work report to the annual parliament session. "We must seize the opportunity, identify the priority and make progress."
China will "accelerate the research and development as well as application of of the Internet of Things," Wen said.
Wen said China will also push for substantial progress in the development of new energy-powered vehicles and integration of telecom, broadcasting and Internet networks.
He said the country should promote the development of industries such as new energy, new materials, energy conservation and environmental protection, biomedicine, information networks and high-end manufacturing.
Editor: Zhang Pengfei | Source: Xinhua