BEIJING, March 5 (Xinhua) -- Chinese Premier Wen Jiabao vowed Friday to enhance rational income distribution system as it is an "important manifestation of social fairness and justice" and a major way out for boosting domestic demand and narrowing income gap.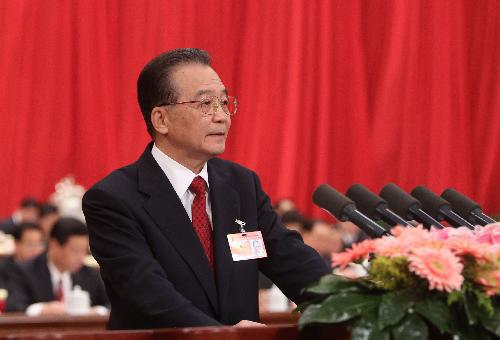 Chinese Premier Wen Jiabao delivers a government work report during the opening
meeting of the Third Session of the 11th National People's Congress (NPC) at the
Great Hall of the People in Beijing, capital of China, March 5, 2010.
(Xinhua/Liu Weibing)
"We will not only make the 'pie' of social wealth bigger by developing the economy, but also distribute it well on the basis of a rational income distribution system," Wen told the annual parliament session in his government work report.
The government will promptly formulate policies and measures to adjust the distribution of national income, and gradually increase the proportion of income individuals receive from the distribution of national income and the proportion of the primary distribution of income that goes to wages and salaries, Wen said.
The role of fiscal and taxation policies in adjusting the primary and secondary distribution of income should be strengthened "to create conditions for more people to earn income from property," Wen said.
There are growing complaints in China that residents' income growth lag behind the rise of state fiscal revenue. Low income has also been blamed for dragging down consumer spending.
People also grudge about hefty income of monopoly industries, which widens income gap and worsened social equality.
Wen said the government will deepen the reform of income distribution system of monopoly industries, set strict standards for the income of executives, especially senior ones, of state-owned enterprises and financial institutions.
It also vowed to crack down on and ban illegal income, regulate off-the-books income, gradually form a transparent, fair and rational pattern of income distribution, and resolutely reverse the widening income gap.
Editor: Zhang Pengfei | Source: Xinhua