China woos multinationals to set up regional headquarters
2010-03-05 11:16 BJT
Special Report: 2010 NPC & CPPCC Sessions |
BEIJING, March 5 (Xinhua) -- Multinational businesses are encouraged to set up regional headquarters and functional agencies in China and enhance cooperation of technology research and development, Premier Wen Jiabao said in a government work report to the parliament's annual session Friday.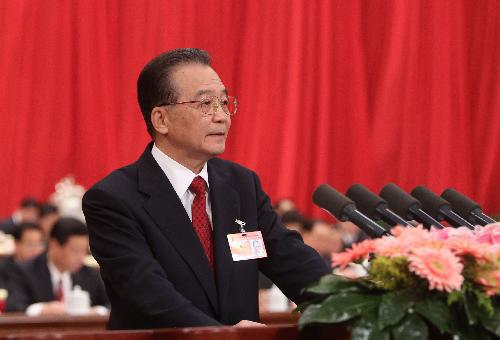 Chinese Premier Wen Jiabao delivers a government work report during the opening
meeting of the Third Session of the 11th National People's Congress (NPC) at the
Great Hall of the People in Beijing, capital of China, March 5, 2010.
(Xinhua/Liu Weibing)
The government will optimize the use of foreign investment, encourage more foreign fund to go to high-end manufacturing, high-tech and service industries, new energy, energy-conservation and environmental protection sectors, Wen said at the opening of the Third Session of the 11th National People' s Congress (NPC).
"We will encourage the use of foreign investment for restructuring, upgrading, merging, and reorganizing Chinese companies, and quickly establish a security review system for mergers and acquisitions involving foreign investment," Wen said.
The government will guide foreign investors to transfer and increase their investments to the under-developed central and western regions.
Foreign investment has been an important engine to drive China's economic growth since the opening and reform policy launched in the late 1970s.
However, foreign direct investment (FDI) in China fell 2.6 percent year on year to 90.03 billion yuan last year as international investors turned cash-trapped amid the global financial crisis.
The government also noted it will support qualified enterprises to carry out overseas mergers and acquisitions, saying the implementation of the "go global" strategy will be accelerated.
Editor: Zhang Pengfei | Source: Xinhua