China to further promote yuan settlement in cross-border trade, keep yuan "basically stable": premier
2010-03-05 12:51 BJT
Special Report: 2010 NPC & CPPCC Sessions |
BEIJING, March 5 (Xinhua) -- China will keep the exchange rate of yuan "basically stable" at an "appropriate and balanced" level while further promoting the use of the Chinese currency in cross-border trade, Premier Wen Jiabao said Friday.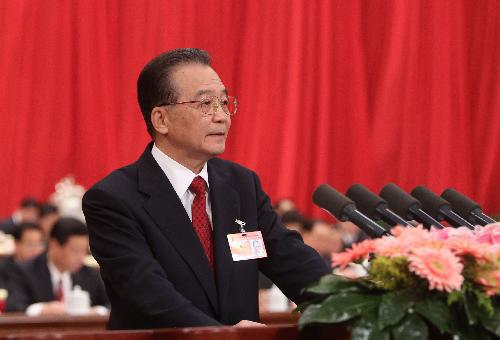 Chinese Premier Wen Jiabao delivers a government work report during the opening
meeting of the Third Session of the 11th National People's Congress (NPC) at the
Great Hall of the People in Beijing, capital of China, March 5, 2010.
(Xinhua/Liu Weibing)
The country will gradually develop overseas financial activities involving yuan, Wen said at the opening of the annual session of the National People's Congress (NPC).
China will also continue to improve the mechanism for setting the yuan exchange rate, said Wen.
China launched pilot yuan settlements in cross-border trade in July last year in its eastern economic hub Shanghai and four cities in south Guangdong Province, namely Guangzhou, Shenzhen, Zhuhai and Dongguan.
Editor: Zhang Pengfei | Source: Xinhua