No universal quality education, no strong country: Chinese premier
2010-03-05 12:52 BJT
Special Report: 2010 NPC & CPPCC Sessions |
BEIJING, March 5 (Xinhua) -- A country can not become strong or prosperous if it does not make education universal and improve its quality, Chinese Premier Wen Jiabao said Friday.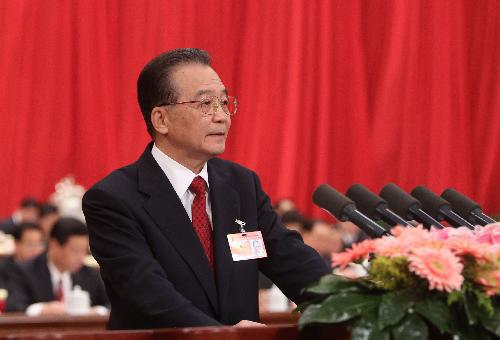 Chinese Premier Wen Jiabao delivers a government work report during the opening
meeting of the Third Session of the 11th National People's Congress (NPC) at the
Great Hall of the People in Beijing, capital of China, March 5, 2010.
(Xinhua/Liu Weibing)
China will give "high priority" to developing education, Wen said in the government work report delivered at the annual session of the National People's Congress, the top legislature.
Wen said China will promptly begin to implement the Outline of the National Medium- and Long-Term Program for Education Reform and Development, a major move on reforming the education.
The draft outline was published Sunday for public opinions.
Wen said China will focus on five areas in the implementation of the outline. They are, namely, to advance education reform, promote the balanced development of compulsory education, strengthen vocational education, reform the management and admissions systems of institutions of higher learning, and improve the ranks of teachers.
The annual amount of government investment in education will increase to 4 percent of the country's total gross domestic product (GDP) by 2012, according to the outline.
Editor: Zhang Pengfei | Source: Xinhua