Former NBA guard Andre Emmett scored 71 points for Chinese Basketball Association team Shandong Gold at the weekend, setting a new individual scoring record for the league as they beat the Jiangsu Dragons 129-113.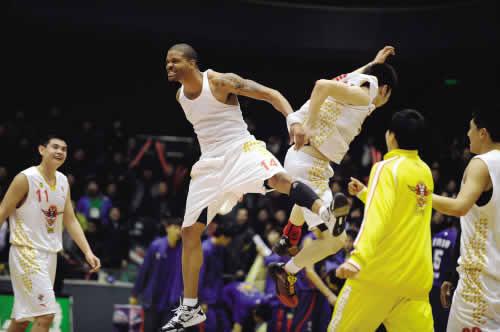 Andre Emmett (middle) reacts during a CBA match between Shandong Gold and Jiangsu
Dragon on Monday, March 8, 2010. Emmett set a scoring record of 71 points. [Photo:
sports.sohu.com]
The former Texas Tech standout came off the bench to shoot 28-of-34 from inside the paint, land three of 11 three-point attempts and sink all six of his free throws.
His record haul beat the previous best of 70 scored by Sun Jun for the Jilin Northeast Tigers in 2000.
Shandong's win helped keep alive its hopes of a CBA playoff spot.
Emmett, 27, was drafted by the Seattle Supersonics in 2004 and later played eight games for the Memphis Grizzlies before moving on to play in Lithuania, Belgium, France and then China.
The 71 points boosted his average to 32.4 points a game, putting him top of a CBA scoring list dominated by Americans.
The highest profile import, twice NBA All-Star point guard Stephon Marbury, had a less successful weekend, missing two late free throws as his Shanxi team lost 89-88 to army team Bayi.
The former New Jersey, Phoenix, New York Knicks and Boston player, nicknamed "Starbury," moved to China in January.
Elsewhere, the Shanghai Sharks grabbed their seventh successive victory. John Lucas led the way with 40 points as the Sharks overpowered the Qingdao Hawks 115-101, ensuring a top four finish in the 17-team league and a place in CBA playoffs.
Sharks head coach, American Bob Donewald Jr, didn't want to talk about the playoffs just yet.
"We have to play the games one by one and keep our form going into the playoffs," he said.
Defending champion Dongguan beat Jilin 137-99. In other games, it was: Tianjin 96, Beijing 78; Guangdong 106, Liaoning 87; Zhejiang Lions 100, Xinjiang 86; and Zhejiang Golden Bulls 120, Shaanxi 109.
Editor: Su Yu | Source: Xinhua