SAN FRANCISCO, March 5 (Xinhua) -- Apple Inc. on Friday announced that iPad, its much-anticipated tablet computer, will hit stores beginning from April 3.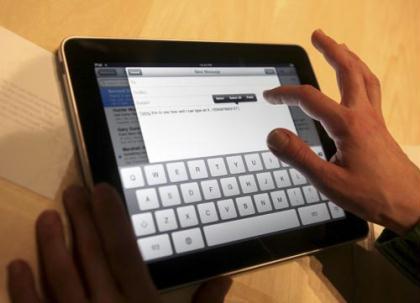 Typing is demonstrated on the new Apple "iPad" during the launch of the
tablet computing device in San Francisco, California, January 27, 2010.
(Xinhua/Reuters Photo)
Apple said it will first sell models with Wi-Fi links to the Internet on April 3 in the United States, with models that have both Wi-Fi and 3G connectivity being available in the country in late April.
Beginning from March 12, U.S. customers can pre-order all the iPad models on Apple's website or reserve Wi-Fi version of the product to pick up at an Apple retail store on April 3.
All iPad models will be available in Australia, Canada, France, Germany, Italy, Japan, Spain, Switzerland and British in late April, Apple said in a press release, adding that the product " will ship in additional countries later this year."
Apple unveiled the iPad on Jan. 27 this year. The company then said the tablet computer will debut in late March.
Featuring a 9.7-inch touch screen, iPad can let users perform various tasks including browsing the web, watching videos, playing games and reading eBooks.
The launch of iPad has created much discussion regarding market opportunities for traditional tablet computers and next-generation tablet devices such as the iPad, research firm Gartner said Thursday in a report.
Gartner predicted that worldwide shipments of traditional tablet computers and next-generation tablet devices could reach as many as 10.5 million units in 2010.
Editor: Zheng Limin | Source: Xinhua