Situated in central Beijing's Chongwen District, the Beijing Museum of Natural History has been a longtime landmark in the Tianqiao area that is famous for folk artists and craftsman. But the museum itself is like a magnet attracting curious people to explore the various creatures inside and their historical development.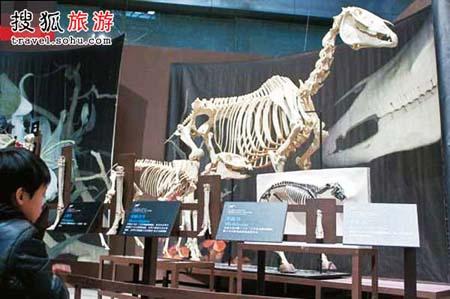 A boy looks at a model of a dinosaur at Beijing Museum of Natural History
[Photo: sohu.com]
Now an exhibition on Charles Darwin and the origin and evolution of human beings is on display free of charge. It features Darwin's original handwritten manuscripts, magnifying glass, and letters to his family.
The exhibition features an intelligible display of the process of evolution, a rich illustration of human characteristics in different stages, and even fragments of the skulls of the Maba people, an ethnic minority in Chad and Sudan.
The exhibition hall is equipped with touch panel computers for visitors to browse more interesting information and pictures.
After seeing the display on human evolution, you may want to learn about the evolution of other species. Is there any relation between wild turkeys and African giant frogs? And the pigeon samples with various types of tails? You will be surprised to learn a great deal from Darwin's theory.