China urges more efforts from U.S. to tackle climate change
2010-03-10 16:08 BJT
Special Report: 2010 NPC & CPPCC Sessions |
BEIJING, March 10 (Xinhua) -- The United States, as the world's largest developed nation, should exert more efforts to tackle climate change, Xie Zhenhua, vice minister of the National Development and Reform Commission, said here Wednesday.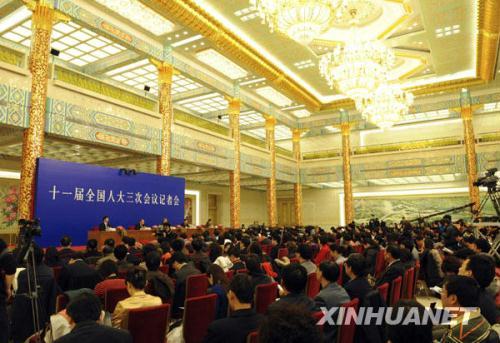 A press conference on energy-saving emission reduction and climate change is held
on the sidelines of the Third Session of the 11th National People's Congress in
Beijing, capital of China, March 10, 2010.(Xinhua/Yang Chun)
Xie, one of China's leading negotiators for climate change talks, made the remarks at a press conference on the sidelines of the annual session of the National People's Congress, the country's top legislature.
Editor: Du Xiaodan | Source: Xinhua