China to achieve goal of cutting pollutant emissions: official
2010-03-10 16:59 BJT
Special Report: 2010 NPC & CPPCC Sessions |
BEIJING, March 10 (Xinhua) -- A senior Chinese official said on Wednesday that the government was confident of achieving the target to cut emissions of major pollutants by 10 percent from 2006 to 2010.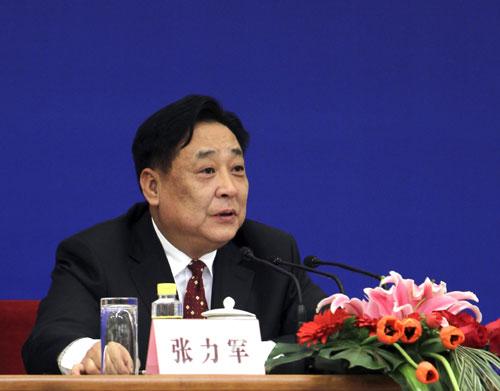 Zhang Lijun, Vice Minister of Environmental Protection, answers a question during a
press conference on energy-saving emission reduction and climate change held on the
sidelines of the Third Session of the 11th National People's Congress in Beijing,
capital of China, March 10, 2010.(Xinhua/Fei Maohua)
Zhang Lijun, vice minister of environmental protection, made the remarks at a press conference on the sidelines of the annual session of the National People's Congress, the top legislature.
The government was considering to expand the category of "major pollutants" to include agricultural pollutants in drawing plans for the period from 2011 to 2015, he said.
The current scope of major pollutants includes sulfur dioxide and chemical oxygen demand (COD), a gauge of water pollution.
He said environmental protection would be used as a tool to facilitate economic restructuring and transforming the development pattern. Market forces and long-term mechanism should play a greater role, he added.
The country's COD and emissions of sulfur dioxide fell for four consecutive years after the target was set at the beginning of 2006, said Minister of Environmental Protection Zhou Shengxian in January.
Editor: Du Xiaodan | Source: Xinhua