BEIJING, March 11 (Xinhua) -- China's Chief Justice Wang Shengjun said Thursday that courts will take actions on judicial corruption to prevent abuse of judicial power after a former vice president of the supreme court was jailed for life two months ago.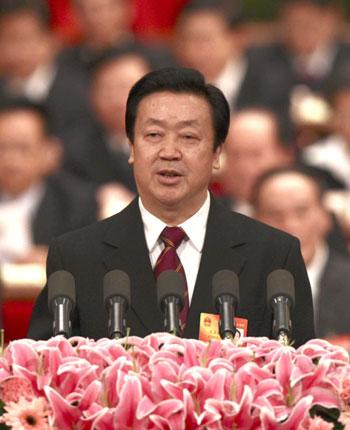 Wang Shengjun, President of the Supreme People's Court,
delivers the supreme court's work report during the fourth
plenary meeting of the Third Session of the 11th National
People's Congress (NPC) held at the Great Hall of the People
in Beijing, capital of China, March 11, 2010.(Xinhua/Yao Dawei)
The Supreme People's Court (SPC) will "strengthen capacity building and act as a model for local courts," Wang, SPC president, told nearly 3,000 lawmakers at the annual parliament session when delivering a work report.
The pledge came after Huang Songyou, former SPC vice president, was sentenced on Jan. 19 to life imprisonment for taking bribes and embezzlement.
Huang was convicted of taking more than 3.9 million yuan (about 574,000 U.S. dollars) of bribes from 2005 to 2008.
Wang said nearly 800 court officials were punished for violating laws last year.
Courts at all levels should "learn a lesson from the case of Huang Songyou" to find out rooted problems on the management of judges and supervision of power, he said.
The SPC has appointed discipline supervisors in its 14 departments and more than 27,700 supervisors are watching over nearly 3,000 courts nationwide, Wang said.
Prosecutor-General Cao Jianming said in a separate report the same day that prosecutors investigated more than 2,700 judiciary workers suspected of graft and malpractice for personal gains last year.
Cao said the authority will "never relax its efforts" in crack down on judicial corruption.
Judiciary staff will be punished if they are found "meddling and intervening court cases, giving bribes to law enforcement personnel, beating or verbally abusing petitioners and over-running timetables in enforcing court rulings," according to an SPC regulation earlier this year.
Cao said in the report that efforts should be made to "resolutely punish corrupt act in the judicial sector to purify the judicial team and safeguard integrity and justice."
An extensive anti-gang crackdown in southwestern Chongqing municipality since last year revealed a grave situation of judicial corruption. About 200 judicial and public security officials in the city have been found to be implicated.
Wen Qiang, former deputy police chief and head of the justice bureau of Chongqing, stood trial last month. He was accused of raping, taking more than 15 million yuan of bribes to protect criminal gangs, and possessing a huge amount of unexplainable assets.
Related stories
Editor: Jin Lin | Source: Xinhua