BEIJING, March 15 (Xinhuanet) -- Golfer Tiger Woods is set to appear in the controversial cartoon series South Park, according to media reports. Creators of the Comedy Central cartoon are unrepentant about depicting Woods in an upcoming episode.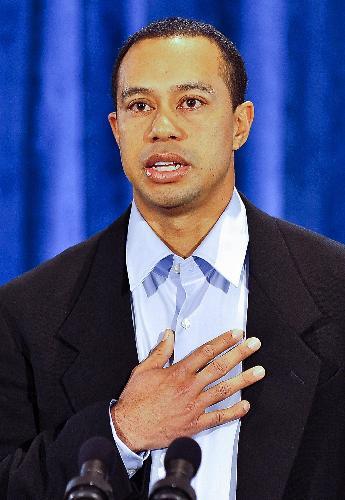 Tiger Woods makes apology for his sex scandals at the
headquarters of the U.S. Professional Golfer ' Association
of America (PGA) Tour in Ponte Vedra Beach, Florida.
(Xinhua/Reuters File Photo)
"It's such an important issue in America right now -- the sex addiction outbreak," Matt Stone, who makes the series with partner Trey Parker, said on Friday referring to the latest revelation in the Tiger Wood's saga. "We're all really concerned about him and hope he gets better," Stone said, "There's a delicacy in talking about (Woods) that we don't have to worry about."
The creators of the Comedy Central cartoon have often taken on subjects which have proved controversial. Woods will feature in the opening of South Park's 14th season on Wednesday, where he will encounter regular characters Stan, Kyle, Kenny and Cartman in their animated Colorado town.
The storyline has not been revealed but it is likely to draw a massive audience. Since the Peabody Award-winning show's first episode in 1997, writers Parker and Stone have not concerned themselves with good or bad taste in order to get a laugh. In previous episodes they have mocked the Church of Scientology to the point of annoying Tom Cruise, and depicted Jesus Christ defecating on President Bush and the American flag.
South Park is airing its 200th episode next month which is a big surprise for Stone. "We can't even believe we're still here doing this," he said.
Editor: Su Yu | Source: Xinhuanet