With the world premiere of Crossing Hennessy directed by two-time Hong Kong Film Awards Winner Ivy Ho; and the gala premiere Like a Dream directed by internationally acclaimed director Clara Law, Hong Kong celebrated the official opening of the 34th Hong Kong International Film Festival (HKIFF) at the Hong Kong Convention and Exhibition Centre with a spectacular ceremony attended by over 900 invited guests on March 21.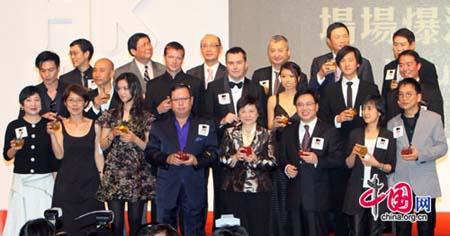 The opening ceremony of the 34th Hong Kong International Film Festival (HKIFF)
[China.org.cn]
In the presence of officiating guests, Mrs. Rita Lau Ng Wai-lan, Secretary for Commerce and Economic Development, and Mr. Wilfred Wong, Chairman of the Hong Kong International Film Festival Society, the Festival was officially opened with a stellar line-up of Hong Kong's A-list, including the cast of Crossing Hennessy, Tang Wei, Paw Hee-ching, Andy On and Lowell Lo; as well as Like a Dream lead actor Daniel Wu. Other distinguished guests included the highly acclaimed actress Karena Lam, up-and-coming screenwriter and actor Derek Tsang, Raymund Nullan, actor of Lola, and the 34th HKIFF Jury member, award-winning director, Brillante Mendoza.
"This year, the Hong Kong International Film Festival continues to uphold its heritage as Asia's leading platform for discovering and promoting the best of Chinese language cinema," said Mr. Wong. "With double the number of films from Hong Kong - eight of them being world premieres, and a total of 31 Chinese language films this year, we welcome you not only to the 34th HKIFF, but to join us in celebrating a new renaissance of filmmaking in Greater China."
The 34th HKIFF will run for 17 days from March 21– April 6, screening over 290 titles from more than 50 countries, with 24 World Premieres, representing a 20 percent increase as compared to last year. As of today, over 68,000 tickets has been sold representing 6 percent increase in sales rate over last year and more than 100 sold out screenings since the box office opened on 25 February 2010.