RIO DE JANEIRO, March 25 (Xinhua) -- Flamengo's star striker, Adriano, came to the 22nd division of the Rio de Janeiro Police Department on Thursday to clarify his relationship with drug traffickers in the Chatuba slum in Rio de Janeiro.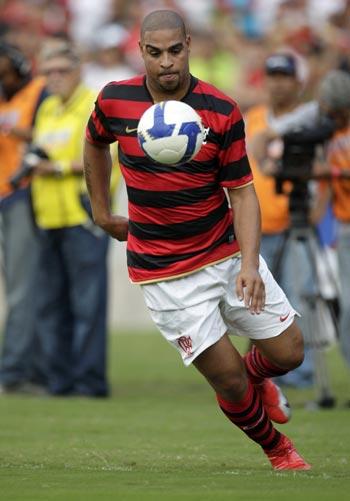 Flamengo's Adriano controls the ball during their
Brazilian Championship soccer match agaisnt Atletico-PR
at Maracana stadium in Rio de Janeiro, May 31, 2009.
(Xinhua/Reuters Photo)
Adriano purchased a motorcycle for the mother of a well known drug trafficker, Paulo Rogerio de Souza, also known as Mica.
The gift worthy of an estimated value of 17,000 U.S. dollars was given in 2008. The police were interested in learning exactly why Adriano purchased the motorcycle and what is his relationship with Mica.
During the questioning, Adriano explained that he never purchased the motorcycle. He added that since a young age, he and Mica were close friends as they both lived in the slum.
However, he denied the purchase of the vehicle, claiming that a friend named Marquinhos used his credit card without ever having consulted him.
Two motorcycles were purchased, one for Mica's mother and another for Adriano when he visited Brazil.
Police chief Jader Amaral stated that he was satisfied with Adriano's statement. Amaral said that he tried to trap Adriano on several occasions, attempting to pin contradictions on the athlete, but was unable to.
For this reason, Jader cleaned Adriano's scandal and announced that he will no longer need to hear from the athlete. Jader said that the next step in the investigation is to explore who signed the motorcycles' registration at the department of motor vehicles.
Marquinhos will be summoned to explain his involvement in the story at a later date.
Related stories
Editor: Su Yu | Source: Xinhua