ATHENS, March 28 (Xinhua) -- A strong bomb exploded in a central Athens district on Sunday evening in the entrance of a state-controlled agency causing one death and one injury, police said.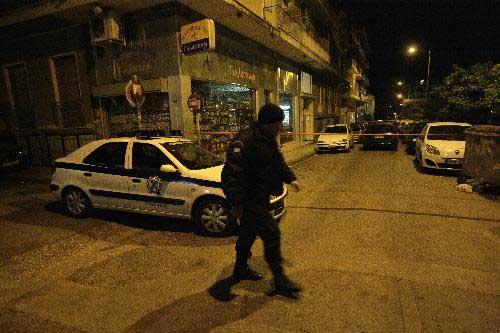 Police cordon off the explosion site in central Athens, capital of Greece,
March 28, 2010. (Xinhua/Marios Lolos)
Greek television channels interrupted their programs with breaking news about the blast which occurred around 11:15 p.m. local time. According to unconfirmed information the body of the dead person is dismembered and his identity is unknown.
Speaking to Greek Press on the condition of anonymity local experts suggest that the dead man could be the person who placed the bomb, which went off earlier than estimated.
According to eye witnesses who spoke to Greek television channels, the dead person is young and could be the 15-year-old son of a poor Afghan woman who was searching for anything useful in the garbage with her family.
Her 10-year-old daughter was slightly injured by the explosion and transferred to a hospital along with the 45-year-old mother who is in a state of shock.
According to local residents, the Afghan family used to go out in the evenings to collect things of little value from garbage.
Police has not confirmed anything officially yet.
Related stories