BANGKOK, April 7 (Xinhua) -- Thailand's red-shirted protesters broke into the Parliament House compound at about 12:20 a.m. Wednesday before they retreated to the outside following the request of their leader.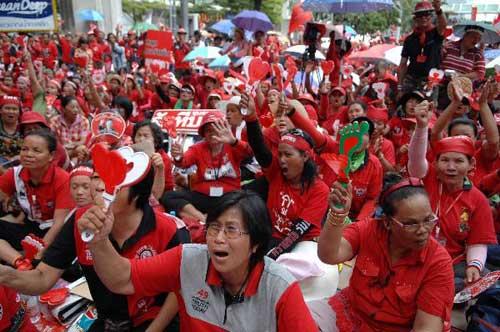 Red-shirt supporters gather in the business area of Bangkok, capital of Thailand,
April 5, 2010, demanding the incumbent premier dissolve the House within 15 days.
(Xinhua/Thana Nuntavoranut)
Hundreds of "red-shirts" broke their way through the security in front of the gate and stormed into the yard, with Arisman Pongruangrong, one of their leaders, demanding the Deputy Prime Minister Suthep Thuagsuban to come out of the building.
The protesters soon stepped back, however, as Jatuporn Promphan, a "red-shirts" co-leader, asked them not to rush into the building.
Arisman then said they have found two grenades and require the government to give an explanation within one hour, saying that's the reason that they broke into the compound.
Responding to him, Metropolitan Police Division 1 Commander Police Major General Wichai Sangprapai said the police is conducting investigation and will explain in half an hour.
Related stories
Editor: Zhang Pengfei | Source: Xinhua