In another clash between Bordeaux and Olympique Lyon, Bordeaux looked nervous at first and did not threaten until playmaker Yoann Gourcuff nodded over in the 18th minute.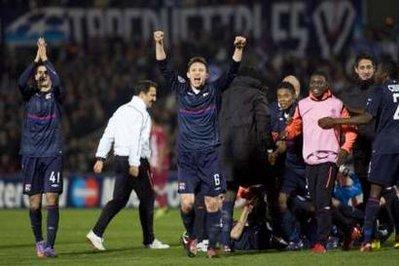 Olympique Lyon's Kim Kallstrom (C) celebrates with his teammates
after they won their Champions League quarter final, second leg
match against Girondins Bordeaux at the Chaban Delmas stadium in
Bordeaux, southwestern France, April 7, 2010.REUTERS/Olivier Pon
(FRANCE - Tags: SPORT SOCCER)
Morocco striker Marouane Chamakh volleyed wide from a Benoit Tremoulinas cross.
Seconds later a low cross by Tremoulinas took a deflection and Chamakh pounced to score from close range.1-0.Despite the loss, Olympique Lyon reached the Champions League semi-finals with a 3-2 on aggregate.
Related stories