Polish president killed in plane crash in western Russia
2010-04-10 17:18 BJT
Special Report: Polish President Dies In Plane Crash |
MOSCOW/WARSAW, April 10 (Xinhua) -- A plane carrying Polish President Lech Kaczynski crashed near the Smolensk airport in western Russia Saturday, killing the president and all 132 people on board, said Russian officials.
The plane, a Tupolev Tu-154, was flying from Warsaw to the Russia city of Smolensk also carried the president's wife, army chief of staff, Deputy Foreign Minsiter Andrzej Kremer and the central bank governor, said Polish Foreign Ministry spokesman Piotr Pszkowski.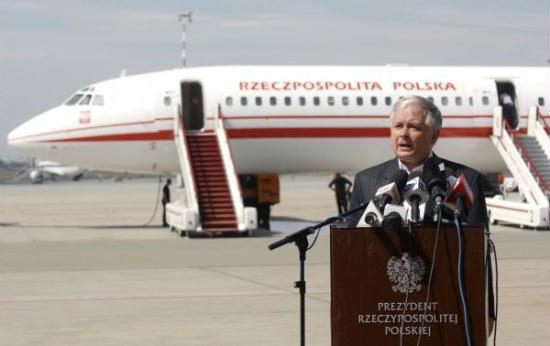 Polish President Lech Kaczynski speaks in front of a Polish government Tupolev Tu-154 aircraft at Krakow airport in this August 8, 2008 file photo. Kaczynski was feared
dead after his plane crashed on approach to a Russian airport on Saturday.(Xinhua/Reuters)
It crashed some 1.5 km from Smolensk airport in foggy weather, Russia news agencies reported.
"It clipped the tops of the trees, crashed down and broke into pieces," Russia-24 television news network quoted the governor of the Smolensk region Sergei Antufiev as saying.
The Russian television's broadcast live footage showed that the plane's wreckage scattered in a forest with parts of it still on fire.
The rescuers are still searching the missing black box.
Russian President Dmitry Medvedev has sent Minister for Emergency Situations Sergei Shoigu, to the crash site and ordered the establishment of a investigation committee headed by Prime Minister Vladimir Putin to investigate the air disaster.