April 11 at 19:35, the premiere ceremony for "Go Lala Go" was aired on CCTV-6, China Central Television's movie channel. Xu Jinglei, director and lead actress, Karen Mok, Pace Wu, Stanley Huang and Li Ai attended the event.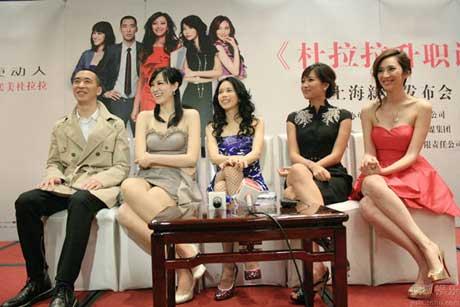 "Go Lala Go" is on a promo tour around China.
"Go Lala Go" is on a promo tour around China. After Beijing, all five stars went to their second stop - Shanghai. Although the movie hasn't been released on the big screen, the premiere received extensive attention in Shanghai. The cast answered questions from local reporters about the love scenes, advertising in the film and gossip about the celebrities.
It will hit cinemas nationwide on April 15, 2010.
SYNOPSIS
Genius is ten percent inspiration and ninety percent perspiration. That is the case for Du Lala, who begins her career in a Global Top 500 company as a humble receptionist.
Lala tackles pressure and frustration in a positive manner, knowing that the obstacles are just many of the hoops she has to jump through.
What will Lala harvest in the end? Promotion, of course, and as an added bonus, a romance.
The romantic Chinese film "Go Lala Go!" centers on Lala's joys and pains as she grows from an office rookie into an HR manager.
The film is adapted from the 2007 best-selling novel "Du Lala's Promotion". The story, about a diligent woman who takes the high road to promotion, has been hailed as a must-read guide for all white-collar workers.
"Go Lala Go!" is the fourth feature film of Xu Jinglei as a director. Xu, who is also a popular actress, stars in the film as Lala.
WHAT TO EXPECT
In the film, Lala is apparently a fashionista. That is owed to Oscar-nominated American costume designer Patricia Field, who has been invited to be the film's costume advisor. Field helps create a trendy wardrobe for Lala from which you may also find inspirations for your own.
Related stories