KHARTOUM, April 11 (Xinhua) -- Sudan's National Elections Commission (NEC) on Sunday acknowledged administrative and technical mistakes during the first day of the voting process in the general elections.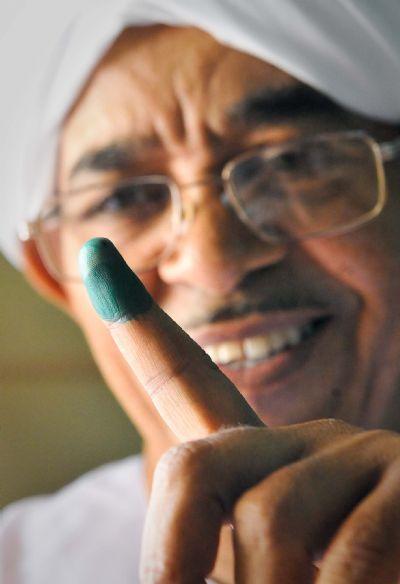 A Sudanese displays his inked finger at a polling station in
Khartoum, capital of Sudan, April 11, 2010. Voting process started
in Sudan on Sunday where the Sudanese people began casting their
votes to select their representative for the presidency, state
governors and legislative council in first multi-party elections
in the country in more than 24 years. (Xinhua/Zhang Ning)
"Administrative and technical mistakes have accompanied the distribution of the ballots in 26 out of 821 polling stations in Khartoum State," said the NEC in a statement.
"The mistakes have been corrected by redistributing the correct ballots to the concerned centers," the statement said.
The reported mistakes included one technical mistake concerning symbols of candidates in one national constituency, one mistake in a state constituency and one mistake with the women's list of the National Assembly.
The NEC said the incorrect ballots were printed in South Africa and Britain, and the United Nations has been notified with this mistake.
"The incorrect ballots were reprinted at Sudan's currency printing press in the presence of representatives of the European observation team and the Carter Center," the statement said.
The U.S.-based Carter Center, which is the only U.S. nongovernmental organization authorized by the Sudanese government to monitor the general elections, has sent 65 observers to Sudan, alongside 130 observers sent by the European Commission.
The statement added that it was planned to increase the polling hours at the centers where the mistakes occurred during the coming polling days.
Sudanese voters on Sunday started casting their votes to select their representatives for the presidency, state governors, president of southern Sudan and legislative councils.
Related stories